Předpokládaná doba čtení: 9 minut
The penultimate stretch of our travels awaits. This one can undeniably be labelled as being geographically intriguing. We will in fact cross the borders of three different countries and, let's be honest, that doesn't happen every day. We can of course look forward to impressive buildings which we shall discuss along the way, but also to another pilgrimage stamp. Are you ready to set forth?
Vertical climb
458 m
Descent
368 m
Distance
26,2 km
Time
7:50 hour
Refreshments along the way
This time around we will begin in Germany, move across Poland, and arrive back in Czechia. As was the case with the previous stage – you will assuredly not turn up your nose to a snack on the way. We recommend stocking up on ingredients in advance, because the entirety of stage #07 takes place outside the bounds of civilisation. Naturally, you may pay for your shopping with meal vouchers or eStravenka cards, as you are accustomed to doing so by now. How about a little taste of bliss for yourself with a snack in the style of "HOSTINA NA MÝTINCE" (FEAST ON THE CLEARING)?
Pastries
Canned tuna or sardines
Quality sausage
Hard cheese
Dried meat
Dried fruit
Chocolate
Cookies
Nuts
Müsli bars
Protein bars (if you can get some locally)
Water
These foods are guaranteed to not spoil. A tree stump may serve as a banquet table, whilst the musical accompaniment will be provided by the birds. And life suddenly gets so much better.
It is equally important to have something to look forward to, which is why we have a tip for you as far as refreshments at our destination are concerned. Specifically, it is Jídelna u Prošků in Frýdlant. It is a typical canteen where you can get a taste of traditional Czech food at great prices. This choice might surprise you, but it is a well-known local establishment and thus deserving of your visit. The canteen also accepts meal vouchers and eStravenka cards.
Pilgrimage stamp 12 – Marienthal Monastery
Pilgrimage stamp 13 – Frýdlant Town Information Centre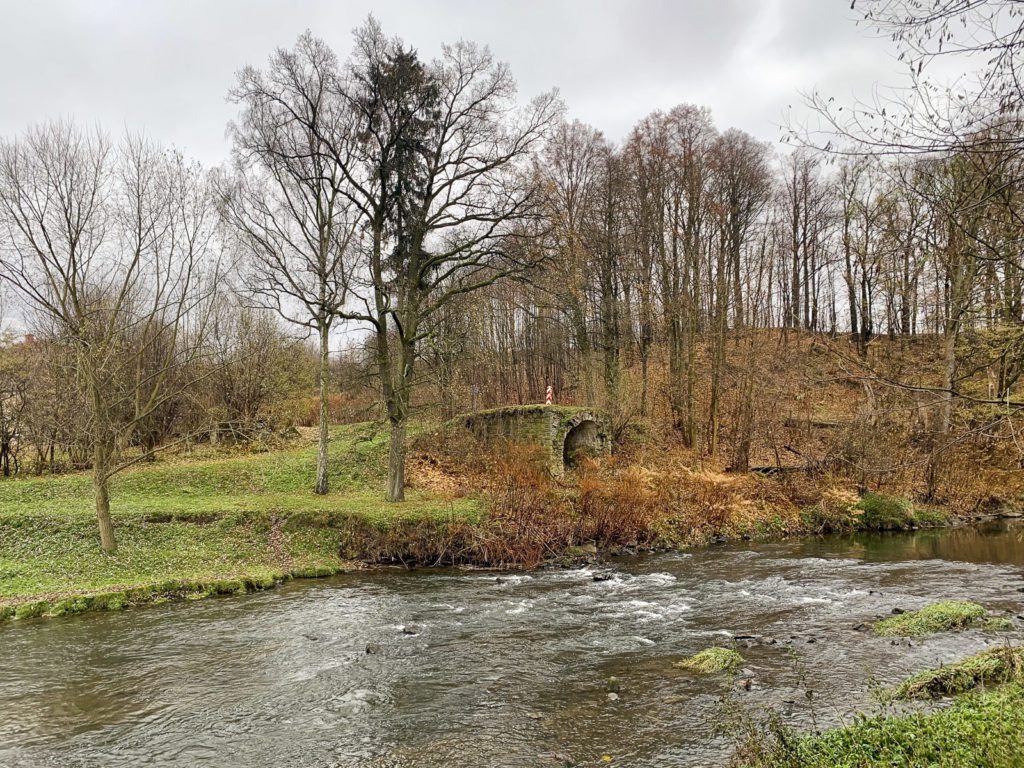 Photo: Ruben Vančo
Route of the seventh stage
From the German monastery of St. Marienthal, we will follow the red tourist sign marked as Jakobsweg Gorlitz Zittau to Ostritz. It is a town with a rich history, the prominent landmark of which is the adjacent monastery (our previous destination). We will continue to Krzewina and finally cross the Czech border. There we will be greeted by the yellow tourist sign which will lead us to Andělky. That is where the Church of St. Anne is located, an example of simplistic Baroque architecture. Continuing along the yellow route will take us to TIM Saň, and further still to Filipovka and TIM Višnová railway station. We will abandon the yellow tourist sign for the green one for a while and head to a place known as Pohanské kameny. It is a group of gneiss boulders immersed in a slew of old legends. There was once an important archaeological site there, suggesting that the place bore great significance in the past. We will then return to the crossroads and follow the yellow route once more to Bulovský Stream. From it we will head for the Frýdlantská výšina observation tower. The observation tower of a brick construction offers a view of the surroundings of Frýdlant with its castle and château, as well as the Jizera and Lusatian Mountains. We will then make our way down the yellow route to the town of Frýdlant. Once there, its castle and château ought to command your attention. The vast and architecturally diverse complex of the medieval castle and the Renaissance château is among the most significant landmarks in the country. It has also featured in several fairy tales. Today's destination lies in the information centre at T. G. Masaryk Square, and with it also the thirteenth pilgrimage stamp for your collection.
Accommodation
Although we have returned to the Czech side of the border, we remain at a considerable distance from big cities and there is one more stage awaiting us before our shared journey comes to a close. That is why we recommend arranging accommodation in the vicinity. Here are some tips for inspiration.
We wish you a pleasant journey!