Corporate social responsibility
Up Czech Republic won the prestigious "Company for Health" award. The award is given to employers who care intensively about the health of their employees. It is not easy to obtain this certification, the company must meet many criteria.

At Up Czech Republic, we are proud of our quality certificate and the "Company for Health brand". People and their care are among our most important values. That is why we constantly follow the latest HR trends so that we can offer only the best. We are a modern company that is not afraid to innovate and to move with the times.
Employee health care is not an empty phrase with us

Our people love being at work. Because we care about "human resources". We place emphasis on life balance, a friendly and relaxed atmosphere, training and offer a large range of premium benefits. Health promotion and prevention are also key to employee care. We know that health is the most valuable thing and without it we would not achieve much. We are also aware of the enormous potential influence we have as a modern employer in this area.
For example, we organise workshops on various health care topics for our employees, we support regular meals during working hours (we have fully paid meal vouchers), our employees can use ELA Assistant (individual support to deal with various life situations). And much, much more.
And why take care of employees' health at all? Employees who maintain a healthy lifestyle are in better physical and mental condition, significantly happier and less sick. And we really want them to feel well and healthy. Genuine concern and care for health are also a great competitive advantage in the job market. That's also why we have no shortage of skilled and quality people.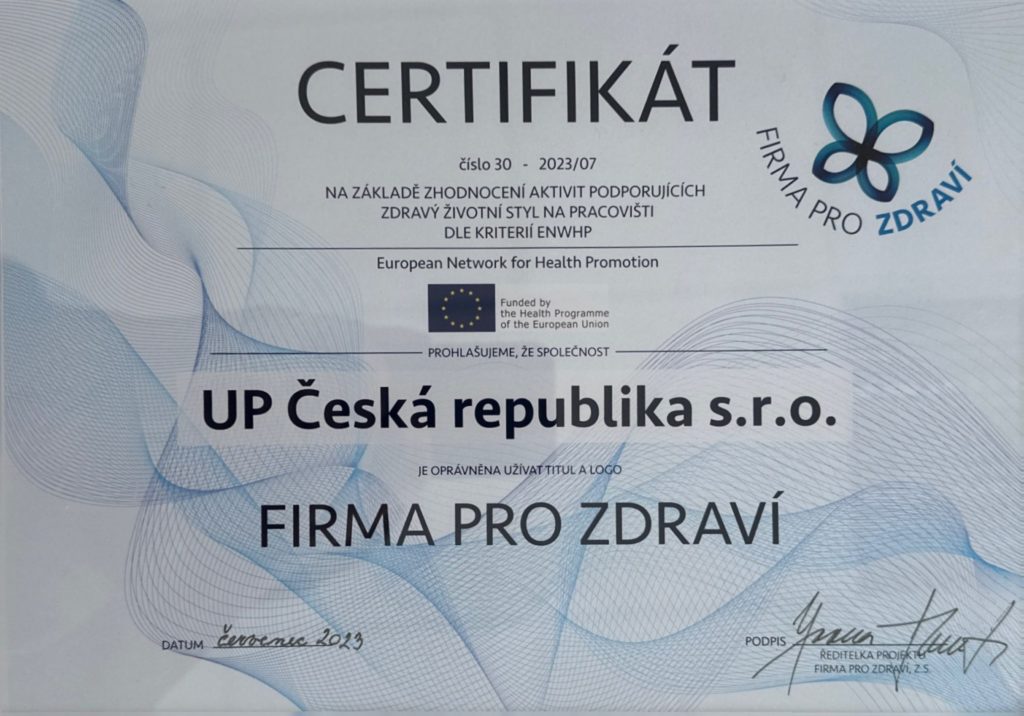 What do companies awarded the Company for Health label have to meet?
It's not quite that simple. Only those companies that take far more care of their employees' health than the law requires will be certified. They inspire, motivate and educate employees in this area, promoting health literacy, awareness and the development of personal responsibility for health. They implement and evaluate targeted health care and healthy lifestyle programmes. There were a number of criteria that we had to successfully meet in order to win the award.
The expert guarantors of the Company for Health project are renowned experts, such as Prof. Cyril Höschl (mental health and prevention of mental illness), Prof. Eva Králíková (prevention of addictions) and Prof. Jan Žaloudík (cancer prevention). The ceremonial presentation of companies and the Company for Health award takes place every year on the grounds of the Senate of the Parliament of the Czech Republic.
---