From July 2023, you can use biometric authentication for online payments on your electronic benefit cards. It's the most secure option, and we're constantly improving and innovating it for you.

At Up Czech Republic, we make sure your payments are secure. That's why we have prepared a new feature for you since July this year, which many of you have already used a lot. It is biometric authentication of your payments via fingerprint or facial scan using the Up key app.
Wondering how you can protect your employees' payments but not sure how to set it up? We're here for you.
Up key is online security that we are constantly improving for you
While online payments are popular, fast and modern, they are accompanied by an increasing number of sophisticated online scams. Often you won't even recognise them, they look like communications with your bank or favourite e-shop. But internet fraud doesn't stand a chance if you have biometric authentication. This is guaranteed to be the most secure method of confirming online payments, because you can't bypass a fingerprint or facial scan.
What's more, we're constantly innovating all our environments to provide even more security for you.
What is the procedure for working with the Up key?
If you don't have experience with biometric authentication yet, we have some simple points to help you get the hang of it. So how do we proceed?
Download the Up Key app on your mobile from Google Play or the App Store.
Add your benefit cards (All Inclusive, eStravenka or eBenefity) to the app by entering the first 6 digits and the last digit of your card number and mobile number.
You will receive a text message on your mobile with a one-time code to enter into the Up key app.
You then enter your own numeric code that you can remember.
You choose the authentication method – fingerprint or face scan – and upload your choice. Another option for authentication is your chosen numeric code. You put Save.
For online payment with biometric verification, please do the following:
In the e-shop, you choose the goods or services, proceed to payment and pay.
The e-shop will ask you to verify the payment via the Up key (for selected transactions).
Verification can be online or offline. With online verification, you confirm the payment in the Up key app either with a fingerprint, a facial scan or a numeric code of your choice.
For offline verification, you have two options. Either you scan the QR code from the e-shop payment gateway page with the Up key app, or you enter the numeric code from the payment gateway page into the Up key app, which generates the numeric code. You then enter it into the payment gateway field.
Done! Simple, right?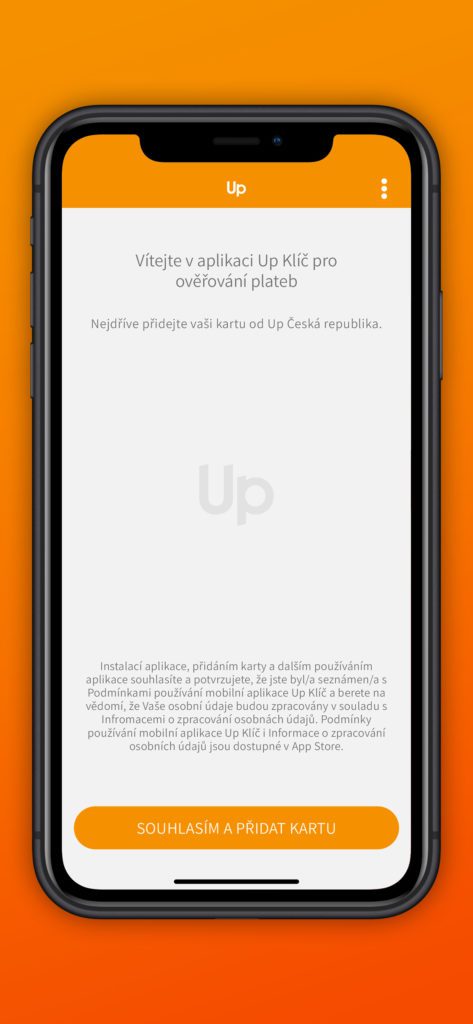 If you don't have biometric authentication yet, don't hesitate and get started! It is the most secure, very simple and convenient. You'll find that you won't want to authenticate your payments any other way.
---
I want secure payments for my employees